TEDxYouth@Lincoln 2018: EDGE Explore | Discover | Grow | Engage
TEDxYouth@Lincoln* will be held Saturday, August 11, 2018, at the Ted Sorensen Theatre at Lincoln High School.
Doors Open: 11:00 AM
Interactive Activities Open: 11:15-12:15 PM
Main Event Begins: 12:30 PM
Join students from Nebraska's high schools, middle schools, and colleges to explore this year's theme of EDGE. Our speakers' ideas will challenge you, our performers will inspire you, and carefully prepared demonstrations and activities will delight you.
Can't attend the live event? Watch our Live Stream on August 11 Here.
In the spirit of ideas worth sharing, TEDxYouth@Lincoln offers short, carefully prepared talks, demonstrations, videos, and talent performances on a wide range of subjects relating to the event theme EDGE. Intermixed with main stage talks and performances, interactive salons and areas for socializing are offered to help foster conversations and encourage learning, inspiration, and creativity on the theme for all attendees.
*x= Independently organized TED Event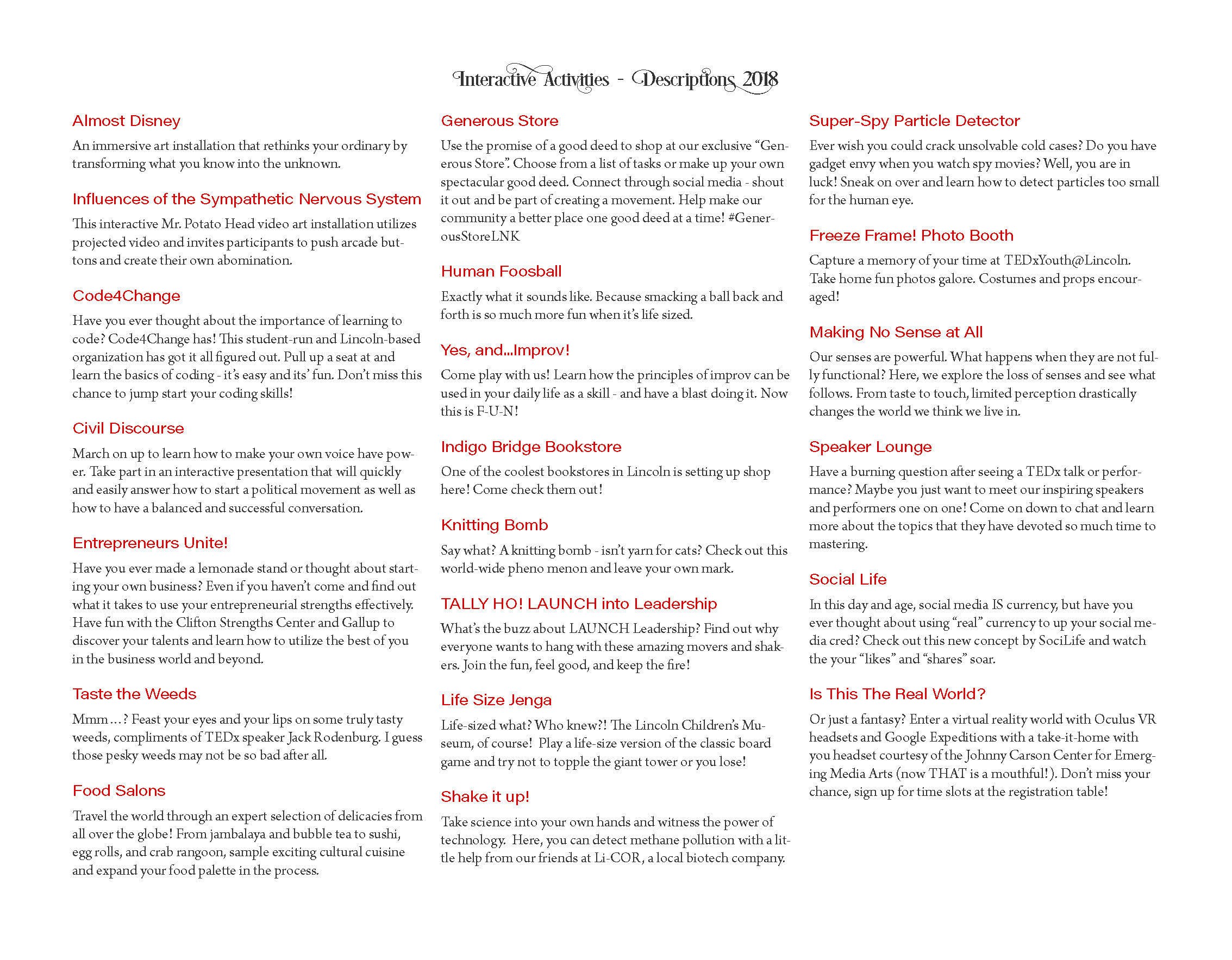 Check out the amazing activities happening before sessions and during the break! Starting at 11:15 - 12:15 and then again at 1:45 - 2:30.
---





"Silent, but Still Deadly"






"Computer Science Education"






"Are the Stars Disappearing?"




"Having a Passion Doesn't Matter - Here's Why"




"E Pluribus Unum: Pluralism in Times of Political Polarization"




"#Fight4FridasLaw: A 13 year old's fight"




"Staying Active... Politically: Interview With Leirion Gaylor Baird"




Talent: "Keep on Keeping On"




Sam Rice

Interview & Talent: "Recollection"




Talent: Photography "The World Through Eyes Like Mine"

The Way Out

Noelle Bohaty

Khaleefa H Muhammad and Alex Pheifer

Karina Hinkley & Jack Buchanan






Sadie Prenda
---

TEDxYouth@Lincoln is a local, independently organized event where we strive to re-create the unique experience found at TED, where the world's leading thinkers and doers congregate to share their passions. TEDxYouth@Lincoln is a series of events held under the umbrella of the TEDxLincoln team. Independently licensed by TEDx, these events look to young people in college, high school and middle school for the next generation of ideas. 
---
Past Events:
2017 - What Now?
2014 - Be The Change
2013 - Unleash Brilliance